Viticulture in harmony with nature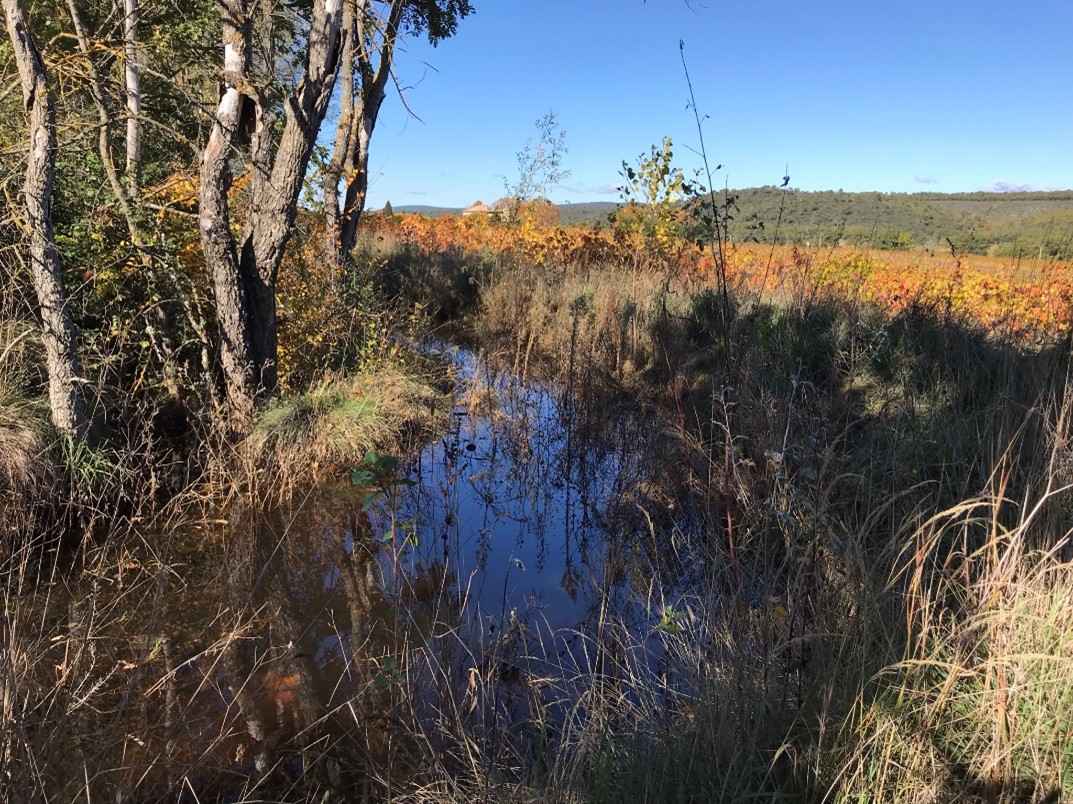 Water retention in perfection, Château Duvivier in Pontevès 2021
Viticulture in harmony with nature, beautiful vineyards and exquisite wines fascinate us. To achieve this, biodiversity, an intact ecosystem and sustainable water management are vital in the vineyard. Delinat winemakers throughout Europe internalised this philosophy years ago and are constantly developing their production methods.
Walking through the vineyard in the south of France, we experience wildflowers, butterflies, birds nesting in the newly planted standard trees and hedges, fresh smelling aromatic herbs and much more. Over the past few years, the Delinat winemakers have acquired cumulative knowledge about, among other things, which tree species are ideally suited to the vines in the vineyard, which undersown crops are ideal between the rows, and the values of an intact ecosystem compared to conventional monocultures. They all agree on one thing: it is invaluable. The vine is a living organism which, in harmony with nature, produces the best grapes and wonderful wines. Its resistance and strength depend directly on its symbiosis with its environment.
When the sun slowly rises at Château Duvivier, the resident birds also make themselves heard loudly. It's a normal fall day at the Delinat vineyard in southern France. After breakfast, Daniel Wyss, ecologist and winemaking consultant at Delinat, takes me on a tour and explains further ecological connections. Using the example of the mulberry tree, one can see that this tree species has a positive influence on the vitality and yield of the vines that grow in the immediate vicinity.
Active water management has now become a supreme discipline in these latitudes, directly influencing yields. In recent years, retention basins have been installed throughout the vineyard to collect and hold back water during heavy rainfall. The vines and all other plants and animals thus survive weeks and months of drought better and the yields are more stable even in years with extreme weather conditions.
Delinat will calculate its first climate balances in 2022 using our World-Climate Farm Standard. We will start in the summer and evaluate the climate performance of selected Delinat wineries in Europe as part of a pilot project. The interest in a standard determination as well as the openness to implement further measures to improve climate performance are prerequisites for this.
The World-Climate Farm Standard forms the basis for calculating and auditing climate performance on farms. The multitude of influencing factors and their scientific assessment make a climate balance for a farm seem complex at first glance. With our World-Climate Farm Tool you have the possibility to apply the scientific basis of our World-Climate Farm Standard to your farm in a simple way.

Ueli Steiner, bio.inspecta AG